Stones Throw producer Knxwledge has been releasing his Meek Mill mixtapes since 2017 but fans won't be seeing them anymore.
That's due to either Meek or his team having them removed for copyright issues, which Knxwledge is none too happy about.
"I'm not sure whats more idiotic. taking down music thats giving you more exposure or simply just not knowing what a f*cking remix is," wrote Knxwledge on Instagram, Sunday, January 9. "N*ggas really copywrite striked a corner freestyle that i had permission to flip from videographer, only reason i can think of is bc this 1 remix got more plays then bro has in the last 10 years. either way the meek series is over w. grab the tapes while you can. to all my heads keeping the raw remixes alive its only a matter of time till the art of remixing is fully dead. be safe, get a lawyer & thanks for always listening."
Knxwledge addressed the situation on Instagram Stories as well.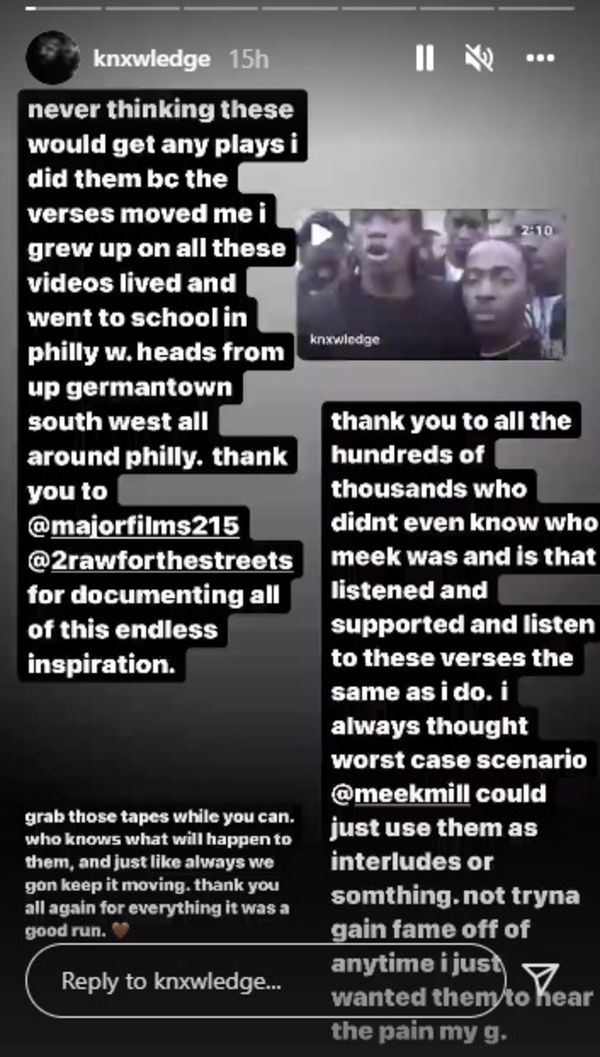 "Never thinking these would get plays I did them [because] the verses moved me I grew up on all these videos lived and went to school in Philly [with] heads from germantown south west all around Philly," he stated. "I always thought worst case scenario @meekmill could just use them as interludes or something. not tryna gain fame off of anytime I just wanted them to hear my pain g."
Meek — who recently told his fans they'd need an Ethereum address to hear his next mixtape — hasn't responded to Knxwledge yet. Do you think he should?
Discuss