When something horrible happens, like the terrorist attack at the Ariana Grande concert which killed 22, it can be hard to think of a good thing to say.
Kim Kardashian should have probably said nothing. Instead, she tweeted out a photo of her and Grande having a good time.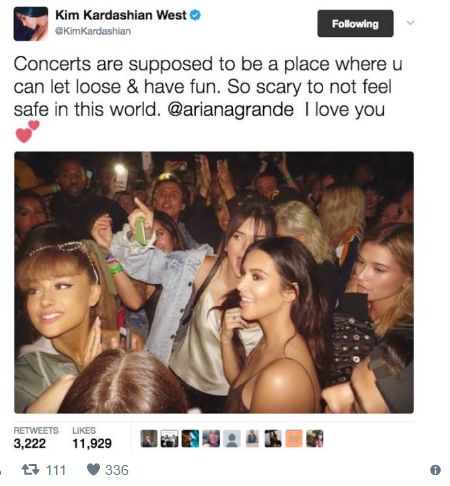 She quickly took it down.  But not until folks pointed out that she managed to make a tragedy with a body count about her and another really famous person partying.
@KimKardashian @ArianaGrande The need for you to post a pic of yourself...disgusting

— J E N N Y (@jennyclairefox) May 23, 2017
@KimKardashian We're never going to forget when you posted an inappropriate pic and made the #Manchesterbombing all about you. (Screenshots are forever.) pic.twitter.com/lsZlptqWio

— Stephanie Sidley (@StephanieSidley) May 23, 2017
Kardashian later posted some more "appropriate" tweets.
I can't imagine the fear and agony these parents must be going through searching for their kids

— Kim Kardashian West (@KimKardashian) May 23, 2017
I'm praying for everyone in Manchester. This is truly so senseless & heart breaking.

— Kim Kardashian West (@KimKardashian) May 23, 2017
Do you think the wife of 'Ye should have gotten shit for her first Tweet?
Or are people just looking for a villain when something inexplicable happens?
Discuss