Kid Cudi went scorched earth on Kanye West in an Esquire interview.
According to Cudi, Ye was a bad friend when they were friends and he doesn't think there is much of a chance at reconciliation now that they are not.
He used Drake's name when explaining why he was done with West.
"With all due respect, I'm not Drake, who's about to take a picture with him next week and be friends again, and their beef is squashed," Cudi said when discussing his relationship with Ye. "That's not me. What I say, I mean. I will be done with you. It's gonna take a motherf*cking miracle for me and that man to be friends again. I don't see it happening. He gon' have to become a monk."
Cudi jumped on Twitter today and clarified that he didn't mean those words as a Drake diss.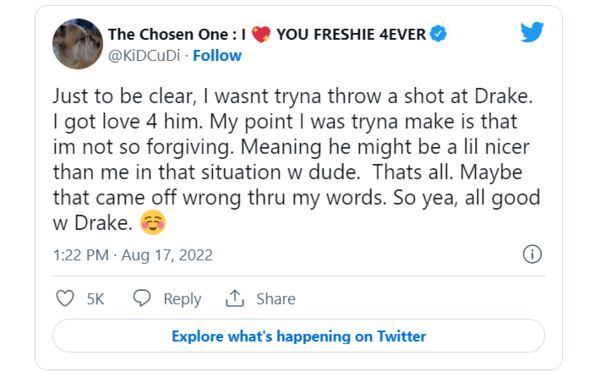 "Just to be clear, I wasnt tryna throw a shot at Drake. I got love 4 him. My point I was tryna make is that im not so forgiving. Meaning he might be a lil nicer than me in that situation w dude. Thats all. Maybe that came off wrong thru my words. So yea, all good w Drake," Cudi said.
Drake and Cudi have had their own issues in the past. But they've made up since.
Discuss