Kevin Gates is an ardent follower of the street code and has the prison record to prove it.
So a lot of folks think it's odd that he just dropped an IG post in support of Troy Ave.
@troyave All I can say is 💪#YesLord : send the 📝? And I'll dis own him today but right na I'm fuckin wit Dat!!! Til I see Different ," Gates typed under a photo of Troy.
Troy is back in court next month to face charges of attempted murder and illegal weapon possession in the notorious shooting at the 2016 T.I. concert at Irving Plaza in New York City.
Podcaster Taxstore is already serving at least ten years for the death of Troy's bodyguard Ronald "Banga" McPhatter in the incident. Last year, Troy admitted he was ready to drop a dime on Tax.
"If you're talking about your life and everything you go through, I been doing that," said Troy on The Breakfast Club last year. "At what point is it snitching if you're talking about yourself? I'm good because I sparked a debate. With the debate that I sparked, not talking about my case, but just in general, eight out of 10 people will be like, 'I'm not going to jail for somebody else.'"
So while Gates said he would support Troy until he sees specific paperwork, many of the folks in his IG comments said they'd already heard enough from Troy.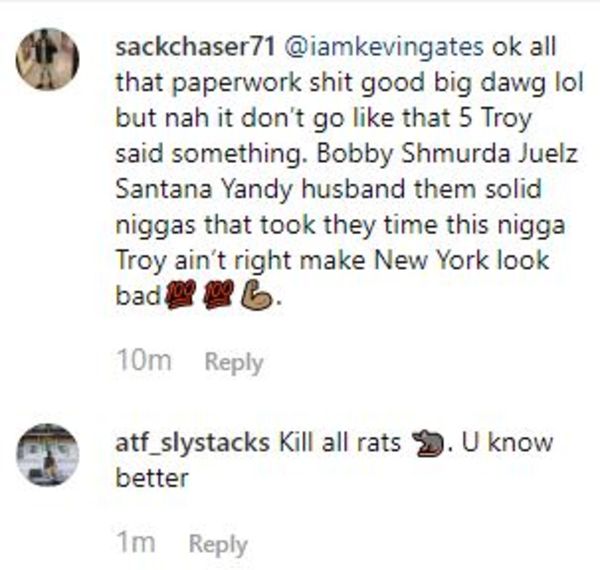 What do you think? Do you need specific paperwork before you can dismiss somebody as a rat?
Discuss