Soulja Boy's latest insta-beef is with Chris Brown.
It's over Karrueche Tran. Or rather a photo of Karrueche Tran.
SB and Breezy have been threatening each other in IG videos since the very early morning on the West Coast -- which Soulja now claims he reps.
They're going to box or something.
Karreuche isn't feeling it, though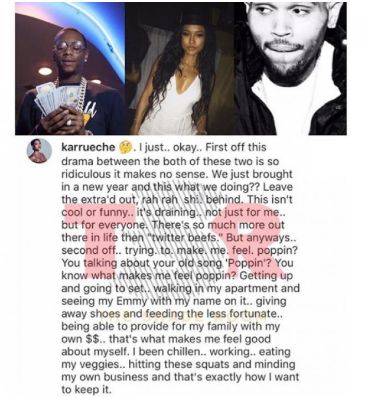 Twitter, however, is having all sorts of fun.
@IsaacNight13 more like we should have left chris brown in 2009 when he assaulted Rihanna

— ㅤㅤㅤ (@Slaymelia) January 3, 2017
So Soulja Boy Was Born In Chicago. Went To Atlanta. Went To Mississippi. Came To La. Now He Claiming Piru On BOMPTON?!? How That Make Sense. pic.twitter.com/0wjwG6F9vT

— Jnawsty (@_Johnathann1) January 3, 2017
How all the Piru's looking at Soulja Boy pic.twitter.com/TuKkZYWZ17

— JuJu (@JuJuuu52) January 3, 2017
we as a nation need to do everything in our power to make sure soulja boy, chris brown and orlando brown never all meet up for any reason

— SadeVEVO (@fillegrossiere) January 3, 2017
If Chris Brown and Soulja Boy box... Orlando Brown should be the commentator. RT to make this happen

— YaLocalWhiteBoy (@NoHoesGeorge) January 3, 2017
No Soulja Boy diss video can top this pic.twitter.com/waYGfaZ0Ar

— Nomani Jones (@WhatUpJT) January 3, 2017
Can somebody please take Soulja Boy phone

— IG: YoungScrap (@youngscrap) January 3, 2017
Soulja Boy really wake up put celebrity names in a hat and select one without looking to see who he can beef with weekly

— Literally Shaking (@NawRob) January 3, 2017
I call it first. Soulja Boy gonna be the first person to beef with himself by the end of the year.

— (@nessly24k) January 3, 2017
When Soulja Boy and Chris Brown meet up to fight pic.twitter.com/Ta1oBEw9k5

— Kenny G (@DaRealKhefner) January 3, 2017
Discuss