Given all that's happened in Hip Hop over the last couple days, Kanye West's Grammy behavior feels like old news. But a Facebook post by Bibi McGill, who's Beyonce's touring guitarist (at least for now), has introduced an interesting new twist to Kanye's actions.
According to McGill, 'Ye isn't as close to Jay Z and Beyonce as he once was.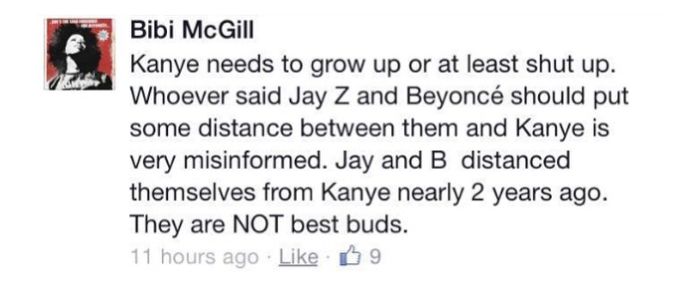 McGill has since removed the post, but screen shots last forever.
Jay Z did look less than pleased when Kanye first pulled his latest Grammy stunt . (Before he backed off the stage and revealed it to be a joke.) And neither Hov nor his wife have rushed to defend the comments 'Ye made after the show.
On the other hand, there are plenty of photos of the trio palling around over the last couple of years. So if there is a rift it couldn't be that big.
Some food for thought though, from somebody who would have the inside scoop.
Discuss