The Coronavirus has the majority of the world quarantined, and social distancing, but take-out and delivered food are still available.
Just like most of us, Kanye West is a McDonald's fan, but his relationship may be a bit more serious than most.
Back in 2018, he publically announced that Mickey D's was his favorite restaurant, and even went on to write a poem about the franchise.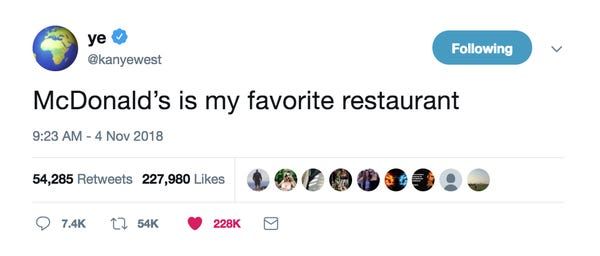 "McDonald's, damn, Them french fries look good tho, I knew the Diet Coke was jealous of the fries, I knew the McNuggets was jealous of the fries, Even the McRib was jealous of the fries, I could see it through his artificial meat eyes" - Kanye West
So it makes sense why the Chicago producer and rapper left quarantine recently to hit up McDonald's for his fix of burgers, fries and soft drink.
@kanyewest If you're going to be a selfish asshat and go outside, don't waste that trip on @McDonalds hit up @ChefGreeny https://t.co/DNyo9MmkRm pic.twitter.com/kVD8aOnX1a

— CHROME PANTHER!💧 (@CHROMEFNPANTHER) April 3, 2020
Stay safe, Kanye.
Discuss