It's mental breakdown season for Ye.
Kanye has been steering right into the crazy curve, going off on folks like DL Hughley and Trevor Noah for just pointing out he might be unstable.
But most of his ire is reserved for Pete Davidson, who is not only having sex with his ex-wife Kim Kardashian but has taken to reminding Kanye that he's having sex with his ex.
In his latest attacks against the SNL funnyman, Ye claims he's worried that Pete is a pedophile who is going to push drugs on Kim.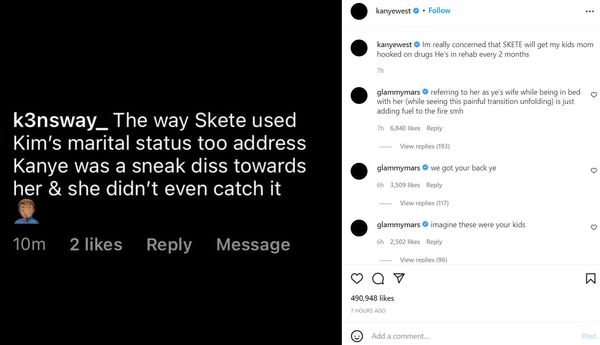 "I'm really concerned that SKETE will get my kids mom hooked on drugs He's in rehab every 2 months," Kanye typed.
While Davidson has sought help for mental health, he's said he doesn't really do drugs other than marijuana, if you want to call weed a drug.
Kanye also posted an article about a joke Pete made about having sex with a baby.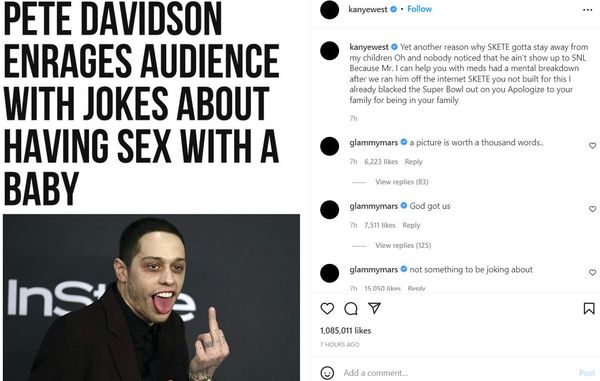 Here's Pete's baby sex joke that Ye referenced and Davidson performed at a comedy club.
One of his most scandalous routines included a story about how he was babysitting his friend's child, and the baby, who is teething, began sucking on his finger "but good," he said.

"I don't want to f*ck this baby but he's asking for it," he said, adding that he doesn't want to have sex with any babies, but if he did, he would choose that one.
Discuss