Drake took a shot at Kanye West on his feature on Trippie Redd's "Betrayal."
'All these fools I'm beefin' that I barely know
Forty-five, forty-four (Burned out), let it go
Ye ain't changin' shit for me, it's set in stone
Rollin' stones, heavy stones (PinkGrillz)
Precious stone, let me make my presence known," Drake spit.
Kanye -- who's been in manic mode as he prepares to drop Donda -- took the jab to heart and threatened Drake with a comic book villain (and Pusha T.) Then he shared the threat on his IG page.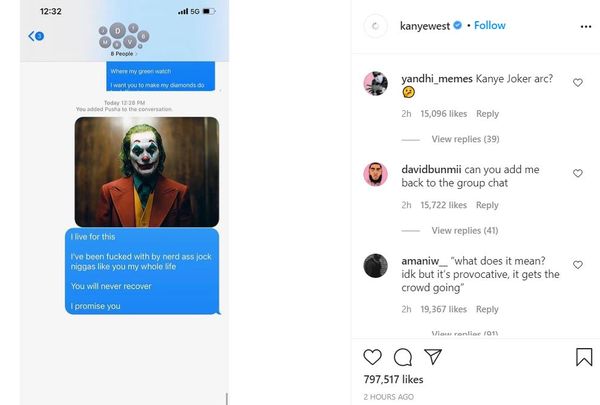 "I live for this," Ye typed after adding Push to the group test. "I've been f*cked with by nerd a$$ jock n*ggas like you my whole life. You will never recover. I promise you."
Nerd a$$ jock is a very good description of Drake. Beyond that, Can Ye (and Push) make good on the threat?
Or does this end with Drake in Ye's ex-wife?
Discuss