The big industry news this morning is that Interscope Records has dropped Chief Keef.
The separation took place a couple weeks ago, but it didn't get out until today. The word is Interscope brass had grown weary of the 19-year olds legal problems, civil and criminal, and his addiction to lean. Another source said Interscope never really knew how to handle Keef's career from the beginning, and finally decided to just drop him.
Keef, being the volatile type, obviously didn't take the news without a social media salvo, in which he referred to the new staff of Interscope as "WhiteHonkies." (As opposed to the other kind?)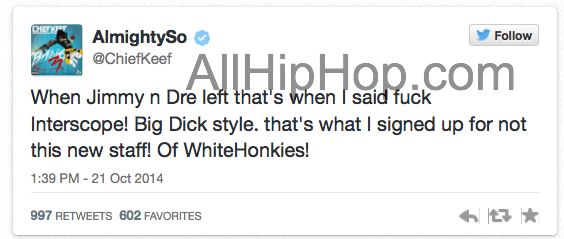 Keef deleted the Tweet soon after posting. However, AllHipHop.com, who also broke the story of Keef getting dropped, screenshot it for all of posterity.
"Jimmy n Dre" refer to Jimmy Iovine and Dr. Dre, who were both at Interscope before they sold their other company, Beats Audio, to Apple this summer and then assumed positions at the computer giant.
In Keef's less inflammatory Tweets, which remain posted, he told his fans that all of his pending projects will still be released. Among other things, his Back From The Dead 2 mixtape will still be out on Halloween.
Will Interscope regret dropping Chief Keef? Or is the Almighty So so just not worth the trouble?
Discuss