Back in August of 2017, Joey Badass stared at the sun during a solar eclipse.

The next day, he was forced to drop out of Logic's tour due to "unforeseen circumstances," leading to speculation that he had damaged his eyes.
Joey encouraged this by posting a photo wearing special glasses he said his doctor gave him to help heal his eyes.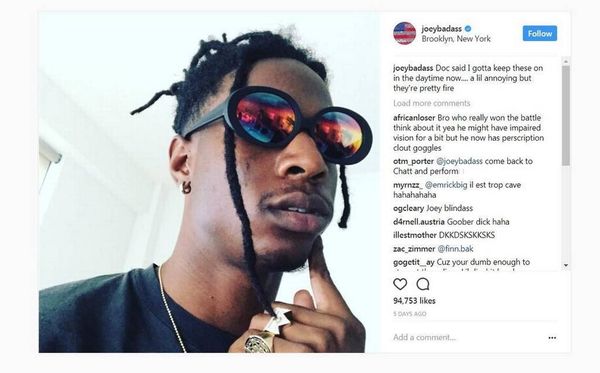 Yesterday, Badass admitted it was all cap.
Speaking of solar eclipses, you know I never got any type of eye damage from that solar eclipse shit that "happened". I just really wanted an excuse to be off the Logic tour. Blogs literally created a story and I went with it because it was convenient for me at the time. (Cont)

— BADMON (@joeyBADASS) June 14, 2022
(Cont.) But it was also funny to see how gullible people are. It taught me a valuable lesson, whatever the media puts out in unison, people will simply believe. Even if the source isn't validated. Scary world.

— BADMON (@joeyBADASS) June 14, 2022
And logic is my nigga btw. I ain't with no logic slander. The tour just wasn't serving me well at the time.

— BADMON (@joeyBADASS) June 14, 2022
"Speaking of solar eclipses, you know I never got any type of eye damage from that solar eclipse sh*t that 'happened.' I just really wanted an excuse to be off the Logic tour. Blogs literally created a story and I went with it because it was convenient for me at the time," Joey typed. "But it was also funny to see how gullible people are. It taught me a valuable lesson, whatever the media puts out in unison, people will simply believe. Even if the source isn't validated. Scary world. And logic is my n*gga btw. I ain't with no logic slander. The tour just wasn't serving me well at the time."
Discuss