Joe Budden's meme-worthy confrontation with Drake fans over the weekend has been all the rage lately.
The fun started when the self-proclaimed OVO goons ran up on Joe's New Jersey home, and seemingly ended when Budden pulled them over and threatened them with a fist full of rocks.
But apparently there was a post-script to the incident.
RedaKidProdigy, one of the Drake stans, DMed this photo of Budden visiting his home to one of his followers.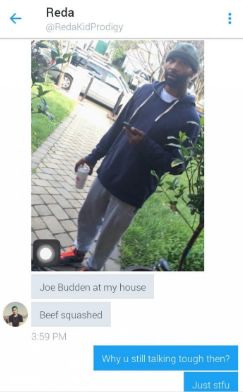 As you can see, "beef squashed."
But what's Joe doing over there?
Was he trying to get the prankster on his podcast?
Or does he perhaps want to team up and drive down to Philly for some anti-Meek Mill shenanigans?
As for Drake, he's now following RedaKidProdigy on IG.
Discuss