Drake has appeared to take a couple of recent shots at Joe Budden.
First there was a snippet of a Drake X French Montana track in which Drizzy is pretty clearly targeting Budden. Then some people (particularly Budden) thought Drake was coming for him subliminally in his track '4 PM in Calabasas.'
The "beef" started when Budden called Drake's hit album VIEWS "uninspired."
Budden has said he wouldn't responded to Drake in bars until the French track officially drops.
However it looks like he's getting antsy, because he just leaked 30 seconds of a Drake-directed diss track.
"My words ain't ghostwritten, I ain't Drake / That's all gimmick, I'm authentic, I ain't Drake/Ain't nothing wrong with it, only saying I ain't fake," Budden raps.
Do you want Drake vs. Budden to happen?

Update: According to Budden, he's not dissing Drake when he brings up the ghostwriters, etc.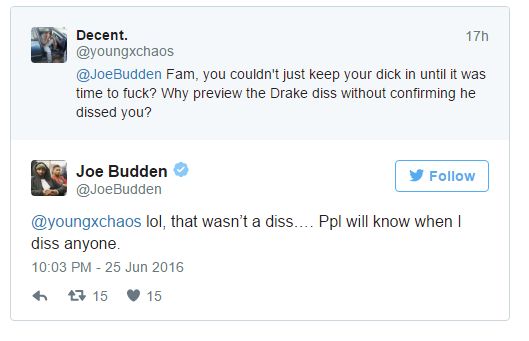 Discuss