A Manhattan judge has ruled Jimmy Henchman will serve two life sentences for arranging the murder of G-Unit affiliate Lowell "Lodi Mack" Fletcher. The deadly hit was allegedly payback for an attack on Henchman's 14-year old son by Fletcher and G-Unit member Tony Yayo in 2007. The murder took place in 2009, weeks after Fletcher got out of jail for the assault on Henchman's boy.
This was the third trial Henchman had faced over the murder The first ended in a hung jury. He was found guilty of the murder for hire at the next trial and was sentenced to life plus 20 years. In November of 2016, a federal appeals court granted him a third shot at justice, but that trial ended in another murder conviction last year.
The 53-year old is currently serving an unrelated life sentence for running a large-scale cocaine ring.
Here's 50 Cent reaction: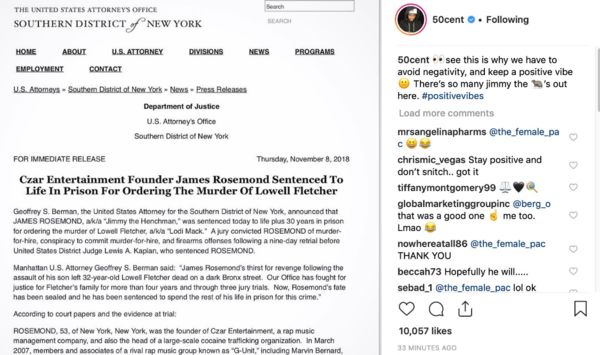 Discuss