50 Cent loves trolling Jim Jones.
It usually seems like it's all in good fun. But Fif may have gone too far when he suggested that Jones was snitching just like Fif's wayward son Tekashi 6ix9ine is in a now-deleted Instagram post.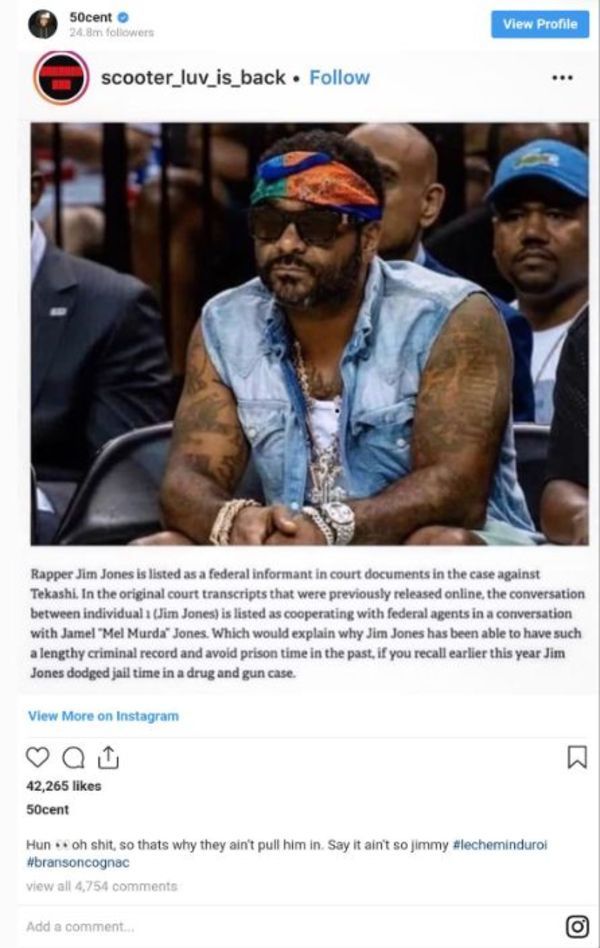 During Jones's appearance on The Breakfast Club, he addressed 50's low blow and said there may be repercussions.
"I wish I could I be in a position to say what I really want to say but unfortunately, my life has been hectic," Jones said about tension with 50. "But where I am from, I do know people that we call real n***as or stand up men, we don't try to tarnish other people's names by doing bullsh*t antics. It's consequences and repercussions for certain things like that from where I'm from. I'll leave it like that… Some people think life is a game, so we'll leave it at that."
One of the things we learned during Tekashi 6ix9ine's notorious testimony last month is that Jones was a somewhat active member of the Nine Treys.
Should 50 be worried about "consequences and repercussions?"
Jump to 16:30 to hear Jones on Fif. Later on in the interview, Jones said he couldn't comment on anything directly related to Tekashi 6ix9ine.
Discuss