Have you heard this before? Jeremih has apparently secured a release date for his long awaited new album. Late Nights: The Album is  dropping on December 5 according Deezer. If you're convinced, and we wouldn't blame you if you're not, there's a track listing that came from the site as well.
The 15 song LP features J. Cole, Big Sean, YG, Juicy J, Twista, Ty Dolla $ign, and more. Now we'll have to wait for Def Jam's confirmation.
1. "Planes" f. J. Cole 2. "Pass Dat" 3. "Impatient" f. Ty Dolla $ign 4. "oui" (You & I) 5. "Drank" 6. "Giv No Fuks" f. Migos 7. "Feel Like Phil" 8. "Royalty" f. Big Sean & Future 9. "I Did" f. Feather 10. "Actin' Up" 11. "Remember Me" 12. "Don't Tell Em" f. YG 13. "Woosah" f. Twista & Juicy J 14. "Worthy" f. Jhené Aiko 15. "Paradise"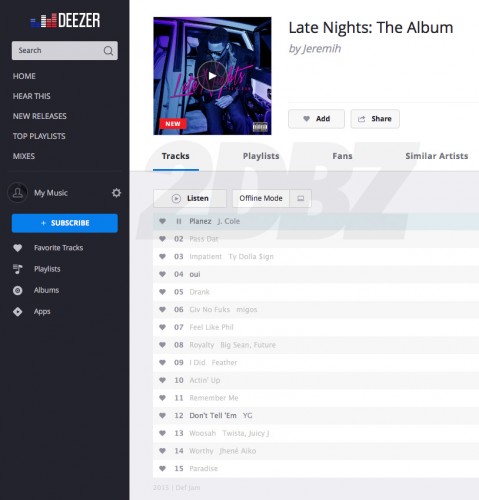 Discuss