Jay Electronica added another layer to Eminem's Machine Gun Kelly diss "Killshot" when he objected to Eminem jokingly suggesting Diddy killed 2Pac.
But Kells, the day you put out a hit's the day Diddy admits
That he put the hit out that got Pac killed, ah
Here's what Jay said on Twitter: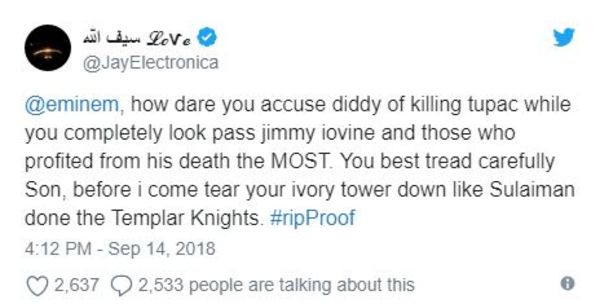 Right after Jay posted that, Em's boy Royce Da 5'9 tweeted this out:
I dare one of you niggas to write sum'n... Ima light yo ass up like a jack o lantern. Mind ya bizness

— 6God (@Royceda59) September 14, 2018
Others suggested Jay may have missed the point of the bars. (In "Killshot"'s outro, Em makes it clear he's not being serious about Puff killing Pac.)
I wish people would get that Diddy never "put a hit out" on MGK.... thus the 2Pac line.... 🤦🏽‍♂️

— The Old Man (@oldmanebro) September 17, 2018
Perhaps in response to all of that, Jay has left Twitter. An Instagram account associated with Electronica has also been deactivated.
Do you think Jay's shook or is he just building drama for when he finally drops something?
Discuss