Jay Electronica released his debut album A Written Testimony earlier this year and followed it up with another unofficial project just last month.
Back in October, there were tracks leaked, so Jay decided to release Act II: The Patents of Nobility (The Turn), which was the follow up to his 2007 project, Act I: Eternal Sunshine (The Pledge).
That only lasted so long, and the project was pulled, and Jay went silent.
Today, Jay hit Twitter to let his fans know that he now has his own Discord chat and invited everyone into it.
Since the announcement earlier today, over 700 people have joined, and the discussions have been intense.
November 23, 2020
In the Discord chat, Jay said that if enough people wanted it, he would release the finished Act II project for them, and he would also include the unreleased Kanye West verses.
Later on, he clarified that he would need to get Kanye's permission before releasing those songs.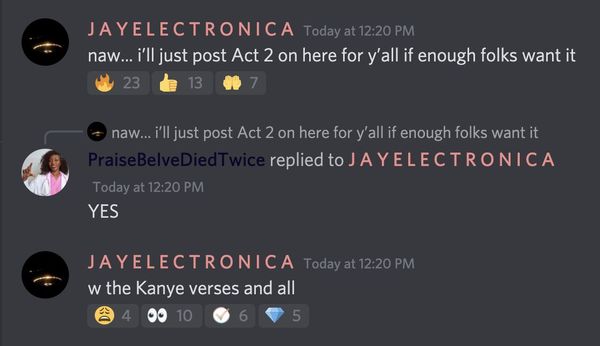 Discuss