YouTube personality and Gucci Mane's little homie Jake Paul should have got a bigger mask.
Paul was spotted, amid a squad of caucasian goons, during the sacking of the Fashion Square mall in tony Scottsdale, Arizona.
YouTube star Jake Paul and his friends were caught "looting" and trashing property in a Scottsdale mall last night amid protests pic.twitter.com/KyrE87TvA9

— Taylor Lorenz (@TaylorLorenz) May 31, 2020
It's fair to point out that (so far) Paul isn't seen doing any actual looting or damaging any property.
Important to note that it's unclear whether Paul himself and his friends destroyed any property/looted themselves, or were just recording it for material for his vlog. Fans are outraged either way. https://t.co/4RTzG0wJja

— Taylor Lorenz (@TaylorLorenz) May 31, 2020
Paul pointed that out in a statement he released this morning.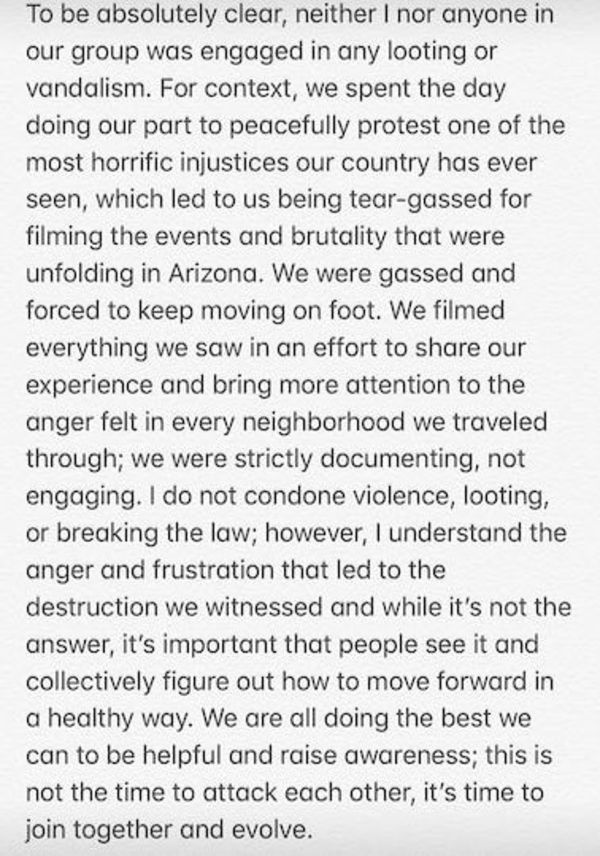 "To be absolutely clear, neither I nor anyone on our group was engaged in any looting or vandalism," Paul typed. "We spent the day doing our part to peacefully protest one of the most horrific injustices our country has ever seen, which led to us being tear-gassed for filming the events and brutality that were unfolding in Arizona. We were gassed and forced to keep moving on foot. We filmed everything we saw in an effort to share our experience and bring more attention to the anger felt in every neighborhood we traveled through; we were strictly documenting, net engaging. I do not condone violence, looting, or breaking the law; however, I understand the anger and frustration that led to the destruction we witnessed and while it's not the answer, it's important that people see it and collectively figure out how to move forward in a healthy way. We are all doing the best we can to be helpful and raise awareness; this is not the time to attack each other; it's time to join together and evolve."
Are you ready to evolve with Jake Paul?
Discuss