Rap-A-Lot boss J. Prince wants to know more about who beat up and robbed YBN Almighty Jay in NYC.
The Alabama rapper got jumped, beaten and robbed on Friday after he got into a fight with some New York goons. YBN was hurt pretty badly and received huge gashes on his face after he was struck with a broken Hennessy bottle. His chain was stolen, and the folks who took it stunted it online.
On Monday, J. Prince sent a message to a group of Bronx artists and asked them for help finding Almighty Jay's attackers -- rappers like Cardi B, Fat Joe, A Boogie, Funk Flex, Swizz Beatz, Remy Ma, Hasan and Mysonne.
"A Clown By The Name Of Zae And His Crew Who Want To Become Famous By Bragging About Robbing Rap Industry N*****," he wrote. "They Recently Bragged About Robbing The Artist YBN Almighty Jay Whom I'm Invested In. They've Robbed Him Of His Money And Jewelry Including A Rap-A-Lot Piece. So Therefore They Have Robbed A Piece Of Me."

"This Is A Perfect Opportunity To Execute Our Unity Where We Don't Allow Moment Thinkers To Muddy The Water Over The Movement," added Prince. "With That Being Said To The Homies In The Bronx If Any Of These Clowns Are Yall's Family Or Friends Speak Now So We Can Get An Understanding. To Ignore This Is A Recipe For Disaster."
So far, Mysonne and Hasan have respectfully rejected Prince's request to help: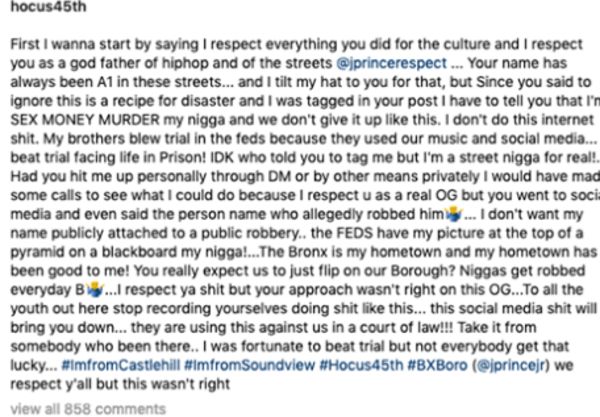 Discuss