The strange saga of Soulja Boy just got stranger.
[Make sure to go to the bottom for an update.]
He's been going at Chris Brown all day, in a beef that started when Soulja claimed Brown was pissed at him for liking Karrueche's photo on Instagram.
About an hour ago, Soulja was talking shit about Brown and stuntin' in Compton when this happened:
Soulja Boy just got robbed while live streaming on instagram pic.twitter.com/OtrO1bd4p4

— HIP HOP FACTS (@iDailyRapFacts) January 4, 2017
They say Soulja ain't from the hood," Soulja says, and puts his arm around somebody.
That somebody objects and pushes Soulja away.

Somebody else picks up the phone and the video ends. Soulja hasn't posted on social media since. The internet is saying the other folks in the video are Bloods.

In more humiliating Soulja news, Brown posted what he claims are texts from Sean Kingston's mom.  In the texts, Mrs. Kingston tells Breezy Soulja is living with her and has lost his mind.

He's certainly lost his mind.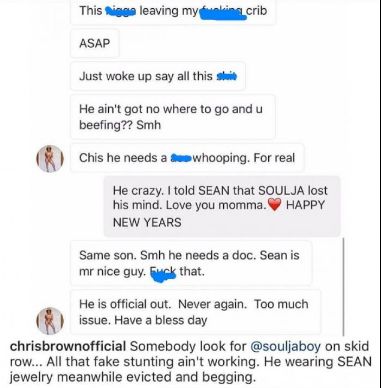 Update: While Soulja does seem to lose his phone, another angle shows that at least he tried to square up.
@souljaboy actually squared up! the true story pic.twitter.com/qKmPKz9dDM

— Your Music Genius (@AllThatHH) January 4, 2017
Update 2: It looks like Soulja may have gotten his phone back, because he's posting footage of his hood safari.
Discuss