Earlier this afternoon Twitter was buzzing with talk that Megan Thee Stallion had dropped her charges against Tory Lanez, who shot her.
The rumors were largely based on a screenshot from the Superior Court of California website which showed no pending charges against Tory (Daystar Peterson.)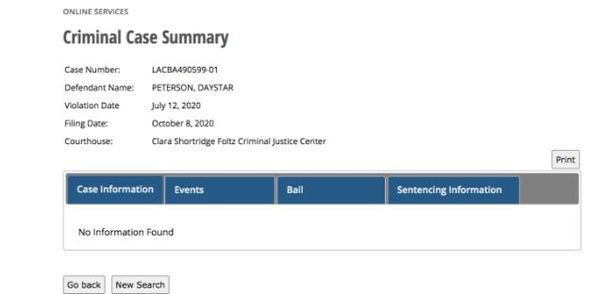 It turns out that's meaningless.
a rep for Tory Lanez says it is NOT TRUE that charges against him in the Megan Thee Stallion shooting were dropped: "The blog that posted this info is wrong. I assume the docket hasn't been updated ... The next hearing date is in mid-February."

— Joe Coscarelli (@joecoscarelli) January 21, 2021
A rep for Tory Lanez says it is NOT TRUE that charges against him in the Megan Thee Stallion shooting were dropped: "The blog that posted this info is wrong. I assume the docket hasn't been updated ... The next hearing date is in mid-February."
So Tory is still facing one felony count each of assault with a semiautomatic firearm and carrying a loaded, registered firearm in a vehicle
Discuss