Earlier today Kid Cudi went on a Twitter rant against the haters and fakes, and those who use ghostwriters.
He kept it subliminal for a few moments.
Then he attached the names of Drake and Kanye West to his criticism.
The Internet has reacted. Check out some of the better takes.
It was all good just a week ago.... https://t.co/guLLbiMaM1

— Douglas Howser (@The_Jeffinator) September 14, 2016
@KidCudi SCOTT WHAT YOU DOIN? pic.twitter.com/CGTv0DEfFA — For The Culture (@BRTTVNY_) September 14, 2016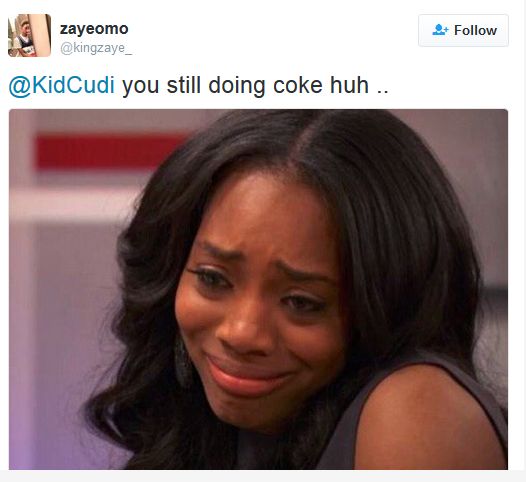 "Nah Cudi. You can't hang with us no more." pic.twitter.com/Qji5qsxWJE

— The Baby Maker (@iamsupervillain) September 14, 2016
@KidCudi The 6God is Watching pic.twitter.com/FJu95024IF — Coleman (@inf0rmationist) September 14, 2016
Kanye: I got rid of my phone

Kid Cudi: pic.twitter.com/3AhzjWSzEP — Max Angles (@maxangles) September 14, 2016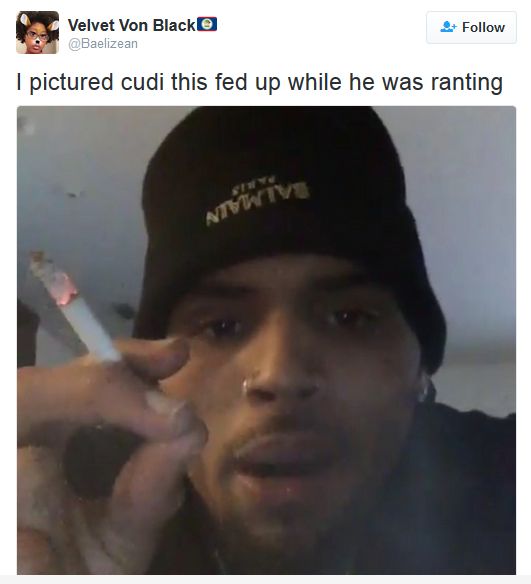 Ye gonna come on twitter and say something petty to Cudi like "I'm not paying your phone bill anymore" — Don Dada (@CirocBwoy_) September 14, 2016
remember cudi's sneakers tho lmaoooooooooooo pic.twitter.com/edGnKunzZu

— Four Pins (@Four_Pins) September 14, 2016
Headline: Kanye confirms collaboration album with Drake Kid Cudi: pic.twitter.com/9XpaO7cudj — Balvin (@Balvinsanity) September 14, 2016
Kanye gonna update his album again and take cudi off LOLOL

— javier chew (@chew_javier) September 14, 2016
not accepting Kid Cudi slander today. He the reason Father Stretch My Hands pt 1 was so fire — Big Soup From 19th (@HailKingSoup) September 14, 2016
I imagine Kid Cudi running around his apartment, with the Crookers remix to "Day N Nite" playing letting these tweets go.

— The Low Key Legend (@CoryTownes) September 14, 2016
Just weird to me that everyone is agreeing with Kid Cudi but literally this is ALL that meek said and everyone clowned him. — Veteran Freshman (@yusufyuie) September 14, 2016
Discuss