Megan Thee Stallion performed at this year's Essence Festival of Culture and invited 20 women from the crowd to twerk on stage.
Janelle Monáe — who flashed her breast at another point in the festival — was also onstage and encouraged the women.
Then when all was said and done, soul singer India.Arie ripped the move and said it wasn't the right time or place.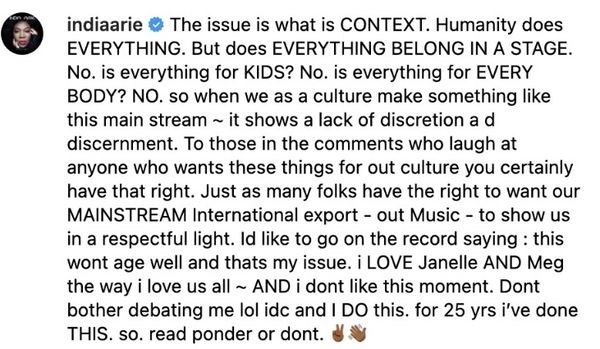 "This wont age well," wrote Arie. "The issue is what is CONTEXT. Humanity does EVERYTHING. But does EVERYTHING BELONG IN A STAGE. No. is everything for KIDS? No. is everything for EVERY BODY? NO. So when we as a culture make something like this main stream ~ it shows a lack of discretion [and] discernment."

"Just as many folks have the right to want our MAINSTREAM International export – out Music – to show us in a respectful light," she continued. "Id like to go on the record saying : this wont age well and thats my issue ... i dont like this moment."
Megan has been criticized for her twerking in the past, and Monáe has taken some flack for her new sexy image.
Discuss