Playboi Carti caught a lot of people's attention after saying that he takes care of Iggy Azalea, who he has a child with.
"I'm a father. You know what I'm saying? You know how it is having kids. I just got responsibilities," Carti told XXL. "I pay a lot of bills. I take care of a lot of people. I take care of my mom, I take care of my family, I take care of my baby mom, [and] I take care of my son. There's a lot of people I take care of. So, it's like, I gotta keep doing it."
Iggy eventually caught wind of the comment and suggested that Carti is lying.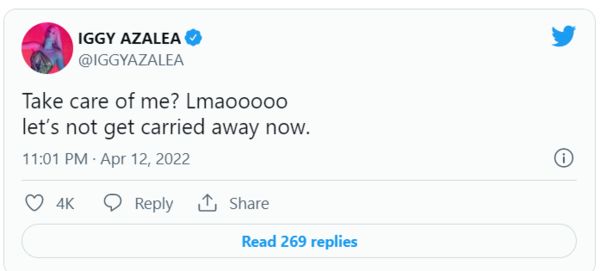 "Take care of me? Lmaooooo let's not get carried away now," she tweeted.
But Iggy shouldn't be too mad, because the "Sky" rapper had some kind things to say about her. Based on his comments, they're doing much better than 2020 when Iggy said Carti abandoned her and their son on Christmas.
"Iggy, she's a great mom. I love her to death. I'm single. She's single now. But that's one of the best mothers in the world ... I love her to death. She is the best mother in the world," Carti stated.
Discuss