Nielsen's 2014 music report has good news and bad news for Hip Hop.
The good news is that it was the most streamed music genre. 28.5% of all streams were R&B/Hip Hop, topping rock (24.7 %) pop (21.1), EDM (6.8) and country (6.1).
But that good news also contributed to the bad news: Hip Hop and R&B fans aren't buying very many albums. On that score, rock dominates at 33.3%, with Hip Hop/R&B at 13.9 , country at 11.8 and pop at 10.8.
This disparity has a lot to do with age: Hip Hop/R&B's audience is younger and likes to stream, preferably for free.
This posses a challenge for Hip Hop's future, as the the economics of streaming are still being worked out, and don't look to be as lucrative as the old album-sales model.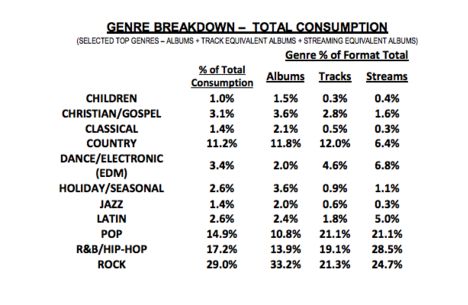 Discuss