Eminem's lyrics just got a 15-year-old boy arrested.
The sophomore at San Joaquin Memorial High School in Fresno posted some of the bars to the Shady song 'I'm Back' on his Instagram page.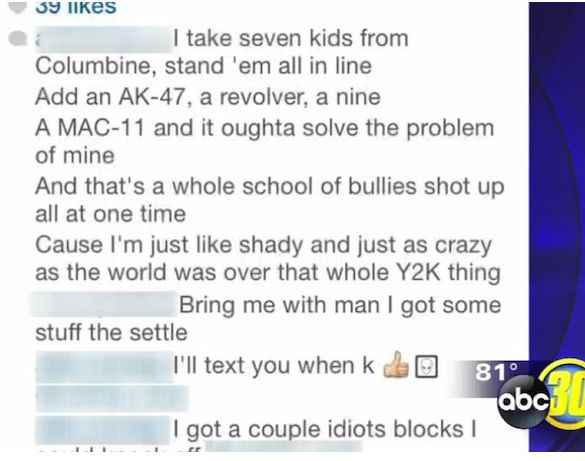 The reference to the Columbine massacre caught the attention of school officials, who shut down school Monday and alerted the police. 
A search of the student's home found several guns, ammunition and a bulletproof vest.  The police also classified him as a "loner" who was "bullied." He was arrested for making terrorist threats and disrupting school activity.
However. the teen denies posting the lyrics, with his lawyer claiming he must have been hacked. The teen's attorney also denied his client was either socially isolated or bullied.
The authorities have seized the suspect's iPhone and iPad and should be able to make a determination on who posted the lyrics quickly. For now, the 15-year old is in a juvenile detention center.
Do you think song lyrics should shut down a school and lead to an arrest?
Discuss