The Hip Hop world is still reeling from the murder of Lionel "Chinx Drugz" Pickens early Sunday morning. Here is what we know so far about the crime:
After playing a show in Brooklyn, Chinx and  Antar Alziadi [Coke boy affiliate Yemen Cheese] decided to go to a hookah bar in Queens. Finding it closed, Chinx said he would drive Cheese to a subway station so he could get home, and they left in Chinx's Porsche.
While the pair stopped at a red light on Queens Boulevard, another car opened fire on the vehicle.
"It was a black Mercedes that came right next to that car and they let off shots," witness Raymond Rivera said.
Chinx was hit up to 15 times (some may have been exit wounds), mostly in his lower body. He died almost immediately. Cheese was hit twice and suffered a collapsed lung. He is expected to recover. Nine millimeter casings were found at the scene.
Police have picked up two men for questioning, but so far there have been no arrests.
Chinx, 31, leaves behind his wife of eight years, two daughters, 14 and 11, and a 4-year old son.
"It is a hard time, we are going through a lot," Janelli Pickens, his widow, said. "It's a very devastating situation, his kids are greatly affected by all this. They don't quite understand, but it will hit them soon. For his son, who doesn't understand why God's angels have come and taken his father, he just wants to know when he's going to bring him back, and it's hard, it's very hard. A lot of people don't understand that this was his life, was his family."
Cheese left this message for Chinx on IG: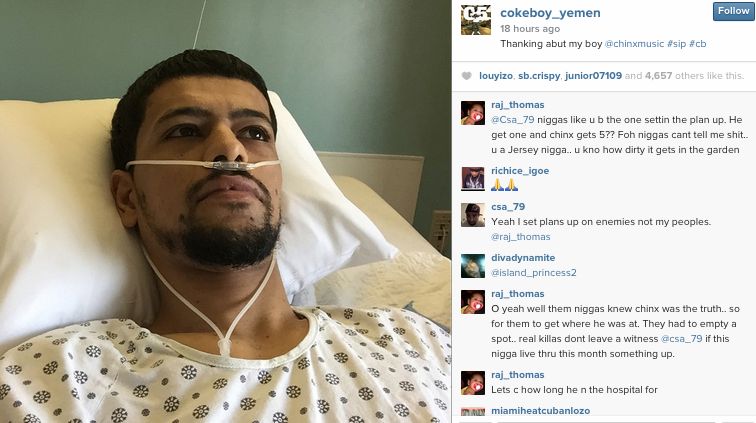 Coke Boy leader French Montana posted this:
Discuss