The YG and Nipsey Hussle track 'FDT' stand for Fuck Donald Trump.
Now a lot folks who have no idea who YG and Nipsey Hussle are know this.
Buzzfeed reports that on Monday a radio station in South Carolina that usually plays oldies and beach music had been hacked to play the anti-Trump track over and over.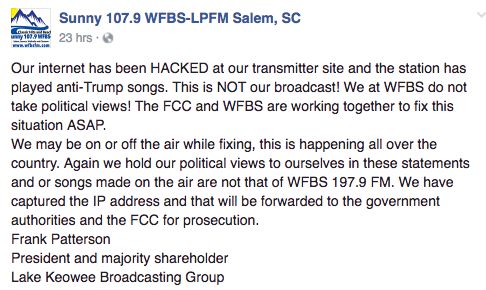 There have been similar hackings at radio stations in San Angelo, Texas, Murfreesboro, Tennessee, Evansville, Indiana; and Louisville, Kentucky.
These are are relatively small radio stations, and experts believes the Trump hating hackers are taking advantage of their use of Barix Exstreamer, an audio over IP device that isn't secured by default and is commonly used by small radio stations because of its simplicity.
The experts caution radio station to secure their devices.
But that wouldn't be as fun, would it?
Discuss