Early Sunday morning, a shooting at a Foogiano show in Greenville South Carolina killed two and injured eight.
While the cops are saying they're hearing multiple different stories about what happened and have placed the blame on gang-activity. Eyewitnesses have said that, specifically, a member of Foogiano's entourage opened fire after someone tried to snatch Foogiano's new chain.
51-year-old club security guard Clarence Sterling Johnson and 23-year old mother-of-two Mykala Bell were killed in the shooting. Bell was described as the "definition of an innocent bystander."
Foogiano addressed the killing on Instagram Live, making clear that he wasn't the one that pulled the trigger and that he didn't leave South Carolina after the homicides because he has nothing to fear.
"I really don't do the Internet thing, you feel me. But y'all trying to bash me as a savage ass killer," he complained.
Foogiane then addressed the friends and family of Bell, who have been threatening him online. He explained that he had already spoken to Bell's baby daddy and was making things right. He then reiterated that he's no killer.
"I ain't running from nobody. I didn't take her life. Foogiano ain't shoot nobody.
He also denied his entourage was responsible in the comments.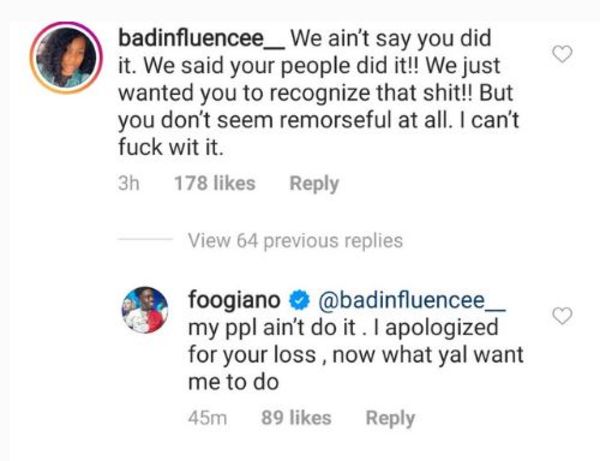 Discuss