In September, Gucci Mane jumped and Twitter to suggest he was leaving Atlantic Records and going independent.
2018 I'm going 100 percent independent and dropping a mixtape every other day 🤷🏿‍♂️#MrDavisTheAlbum

— Gucci Mane (@gucci1017) September 22, 2017
Now it looks like that was part of his negotiations with the label. This afternoon Gucci tweeted out news that he had signed a ten million dollar extension with Atlantic.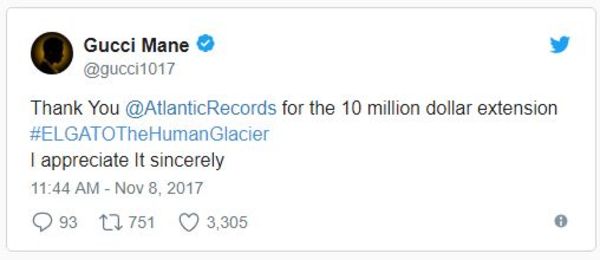 That's a lot of money for Gucci, who recently had his million dollar wedding paid for by BET.

It's unclear if the deal is just for Gucci or if it's also for his label, 1017 Records, and its subsidiaries. The deal hasn't been confirmed by Atlantic yet.

If it's truth, do you think he'll be worth it?
#Mood pic.twitter.com/T2RLLTzpuC

— Gucci Mane (@gucci1017) November 8, 2017
Discuss