A huge congrats go out to Gucci Mane and his longtime girlfriend Keyshia Ka'oir, because they're now officially engaged.
Guwop popped the question last night at Philips Arena in Atlanta during a game between the Hawks and the New Orleans Pelicans.
At first, the couple appeared on the arena's Kiss Cam, and more than likely Ka'oir thought she would just lock lips with her man and that was it. But all of a sudden he stood up, pulled out a black box and asked her to marry him.
"Yes, yes, yes," you can see the beauty and fashion expert say, probably just realizing what happened and trying to gain her composure. Afterward, the crowd applauded, and Gucci's brand new fianceé was handed a bouquet of flowers and showed off her ring.
According to The New York Times, the Woptober spitter met Ka'oir in 2010 after he saw her in XXL magazine and asked her to be in one of his videos. From there, a relationship blossomed, and they've been together ever since — even when Gucci was sent back to prison in 2014 for possessing a firearm.
"I would mess up and do stupid junk,'" he said. "But she had my back through all of it."
In that same interview, Ka'oir talked about the new and improved version of her man that everyone sees today, one who's more  health conscious, a lot more focused and isn't ashamed to admit that he's in love.
"I've always known that person," she said. "This is nothing new for me. He's grown up now, like, 'I no longer have to hide this part of me, either you like it or you don't.'"
No word yet on when the couple will officially tie the knot.

Here's the ring: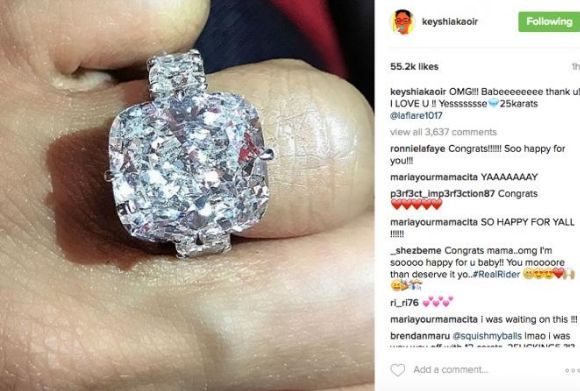 Discuss