Tekashi 6ix9ine was supposed to be in jail. Instead, he's in the heads of all your favorite rappers.
Gucci Mane is the latest to take the bait when he jumped on Instagram and dropped a sub on the rainbow-haired troll rapper.
"I Never Have and Never Will Snitch on Nobody, I'll Do My Time," Gucci typed.
Snitch9 notoriously rolled the day the Feds picked him up and testified openly against his former Nine Trey Blood bros.
That got 6ix9ine a greatly reduced two-year sentence, which became even more reduced when COVID overrun the prison system.
6ix9ine then stunted the snitch lifestyle in first post-jail track, the record-breaking "GOOBA".
"You're mad, I'm back
Big mad, he's mad, she's mad, big sad
Ha-ha, don't care, stay mad
Ah-hah, ah-hah, ah-hah
Ha-ha, bitch, I'm laughin' 'cause you big mad
See it in your face, cry baby, bitch you big sad
Niggas tweetin' bout me, got me trendin', bitch, you big sad
Tell me how I ratted, came home to a big bag", Tekashi raps.
Tekashi would call Gucci's attack "clout chasing." Agree?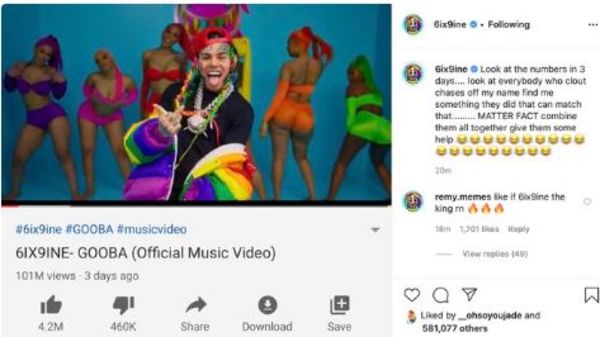 Discuss