More tragedy in the rap community.
This afternoon Capo, who was affiliated with Chief Keef's Glo Gang, was killed in a drive by attack in Chicago.
As they fled the scene, the shooters allegedly ran over and killed a one year child.
The Chicago Tribune, which was understandably more focused on the child, reports:
About 2 p.m. in the 6300 block of South Ellis Avenue, the child, about 1 year old, was in a stroller that was struck by a vehicle being driven by a suspect in an earlier South Shore shooting, said officials. The accident happened in the Woodlawn neighborhood, about 3.5 miles northwest of the shooting. The child was initially taken in critical condition to Comer, said Officer Veejay Zala, a spokesman for the Chicago Police Department who was citing preliminary information. The South Shore shooting occurred about 1:40 p.m., when someone shot a 22-year-old male in the left hip and back in the 7700 block of South Kingston Avenue, Zala said. The shooting victim, 22 [Capo], was taken to Advocate Christ Medical Center in Oak Lawn and has died, according to officials.
Police have detained two suspects in the shooting.

There's a video of Capo laying dead on the street circulating the Internet. (Video here, but we wouldn't recommend it.)

RIP Capo and the young victim of this most heinous of crimes.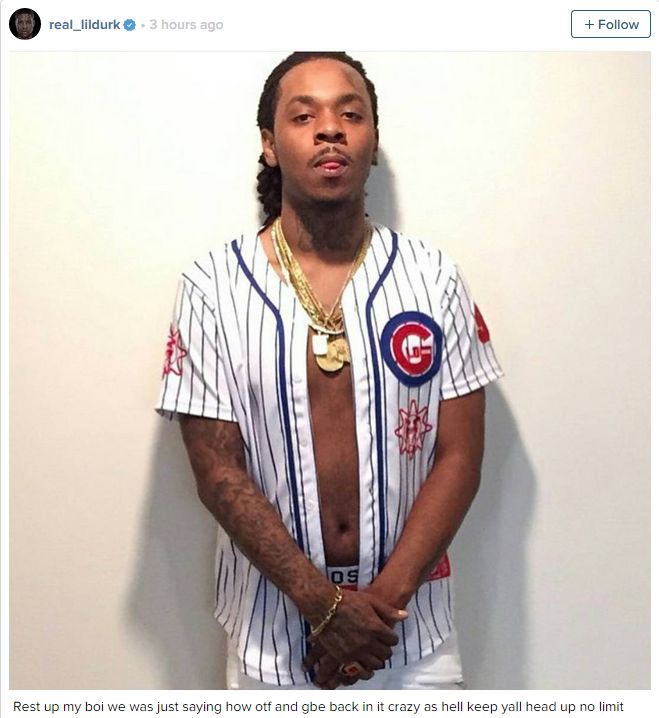 Discuss