It looks like Future is gearing up for something.
He certainly hinted he is by deleting his Instagram today.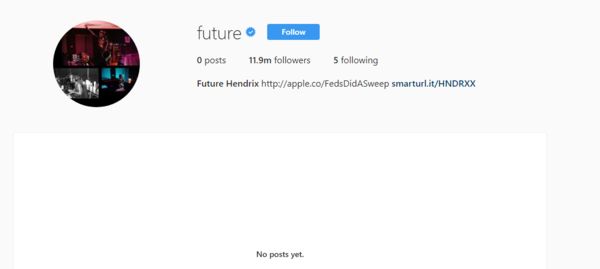 He did the same thing at the beginning of 2017. Less than two months later, he dropped the back-to-back albums Future and Hndrxx. Later, he capped off his big year off with the Young Thug collab mixtape Super Slimey.
His explained his early 2017 IG break in a Zane Lowe interview.
"It was probably the best thing I ever done," Future said. "'Cause [...] I don't have to respond to certain things that's going on, even in my life. "I wanted to give attention to my music, my kids, my family," he continued. "Social media can take up a lot of your life. I wanted to be able to give my fans all of me."
In addition to deleting his IG content, it's also been a couple of weeks since Future's put anything on Twitter, suggesting he's trying to find his musical beast mode, so to speak.
Do you expect big things from Future in 2018?
Discuss