Funk Flex is already beefing with Conway The Machine after the Griselda rhymer called him a "gatekeeper," and now Flex is getting into it with Pete Rock.
It all started when Pete piggybacked off of Conway's comments about Flex hurting New York hip-hop.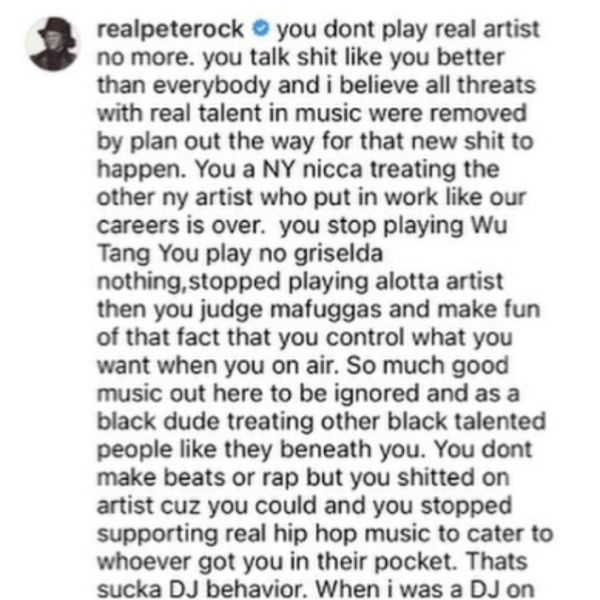 "You don't play real artist no more," tweeted Pete. "You talk sh*t like you better than everybody and I believe all threats with real talent in music were removed by plan out the way for that new sh*t to happen. You a NY n*cca treating the other NY artist who put in work like our career is over. You stop playing Wu Tang You play no Griselda nothing, stopped playing a lotta artist then you judge maf*ggas and make fun of that fact you control what you want when you on air ... So much good music out here to be ignored and as a black dude treating other black talented people like they beneath you. You don't make beats or rap, but you sh*tted on artists cuz you could, and you stopped supporting real hip-hop music to cater to whoever got you in their pocket. That's sucka DJ behavior."
Flex responded on Instagram.
"@hahaha Coming from the guy who sh*tted on drill!" he wrote. "They from 'NY' my friend! They fired u from WBLS and HOT97 in that order because u lost touch with the music, streets and club! Please remember I'm a fan of your music, love every song u ever made, loves listening to u on the radio, love your bars … @realpeterock u sit in your basement high as hell, out of touch, mad at the new generation ... Pal … your career was over the day u stop realizing HIP Hop can't be dictated. YouTube, Apple and Spotify dictate the culture!"
You can check out both Flex and Pete's messages above.
Discuss