For the second time in a week, one of Future's Freebandz rappers has had words for Desiigner.
First Lil Donald pointed some bars at the 19-year old in his track 'Fuck Panda,' and now Doe Boy has used Twitter to make his displeasure with Desiigner known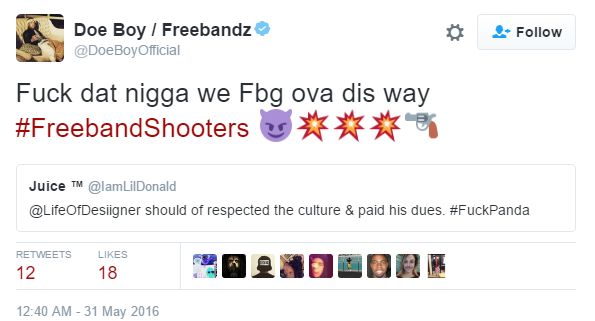 May 31, 2016
Doe Boy just got out of prison after serving a three year stint for robbery. He concedes he rocked with 'Panda' when he was in the joint -- before he knew better.
"I got hip to the joint while I was in jail and I fucked with the song," Doe told HipHopDX. "When I came home from jail, I found out that he and bro had a problem. I didn't know that bro ain't like the dude."
While Future continues to play it cool with Desiigner's imitation and trolling, it looks like he may be siccing his squad on him.
Discuss