The Puffy killed Tupac rumor has been around for a while, one of a host of different theories on who killed the legendary rapper.
LAPD detective Greg Kading, who reopened Pac's and Biggie Smalls' murder cases as part of a special task force in 2006, adds some credence to Diddy being behind the shooting death of Pac in the new documentary Murder Rap.
Kading recently spoke to the Huffington Post, and detailed how Diddy did Pac in.
Based on his three years working the cases, Kading claims that Sean "Diddy" Combs hired Crips gang member Duane Keith "Keffe D" Davis to kill Shakur and his manager, Marion Hugh "Suge" Knight, for $1 million. He alleges that on the night of Sept. 7, 1996, Keffe D's nephew, Orlando "Baby Lane" Anderson, pulled the trigger. Only Shakur was killed.
Kading says he tried to get the LAPD to bring charges against Diddy, but they declined. He thinks it was because of Puff's celebrity status, and the fact that Anderson had since died in an unrelated incident.

Diddy has said Kading's claims are "pure fiction and completely ridiculous."

50 Cent, on the other hand, thinks there may be something to them: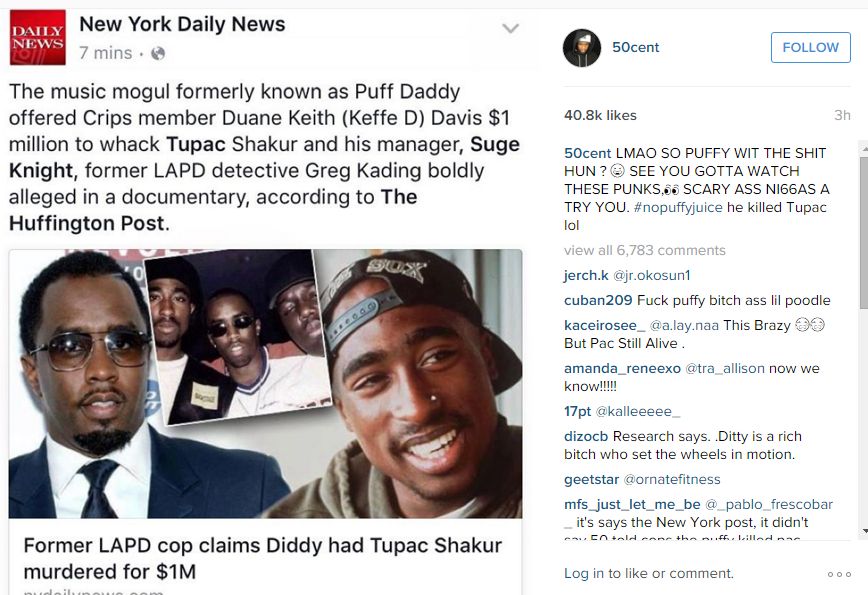 Discuss