Yesterday, brand new New England Patriots wide receiver Antonio Brown's ex-trainer Britney Taylor filed a lawsuit alleging AB raped and assaulted her.
The NFL is considering putting Brown on the commissioner's exempt list, which would suspend him with pay as the league looks into Taylor's suit.
Brown's lawyer says any contact between AB and Taylor was consensual and she turned on him because she was unhappy that he didn't "invest" $1.6 million in some property she wanted.
Taylor's team says her allegations against Brown have passed a lie detector test.
Now we have footage of Brown and Taylor looking cozy.
In addition, here are some texts Brown sent Taylor, using a language all his own.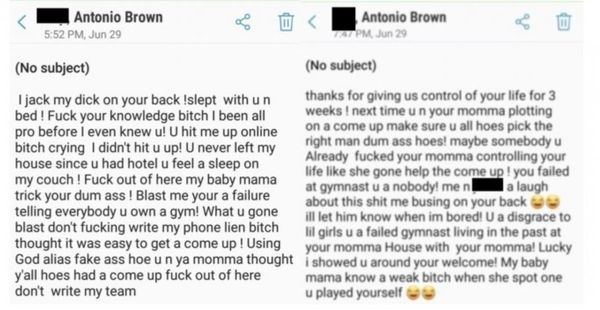 What do you think about all of this?
Discuss