Not long after Ronda Rousey went down hard to Holly Holm, 50 Cent IG posted a meme mocking Rousey, and claimed that Floyd Mayweather had told him to share it.
It all made sense: Rousey had criticized Mayweather in the past, and after a period of estrangement Fif and Money are back to being boys.
But apparently Mayweather had nothing to do with the posting.
"That's not true at all," he told FightHype.com. "I haven't really spoke to anyone about the Ronda Rousey situation, just to set the record straight. I don't have anything against MMA fighters. It's just like boxing; you win some, you lose some. A true champion can take a loss and bounce back." "I don't think it's cool how everyone is trolling her on social media," he continued. "Certain things you have to learn. People will love you on Friday and then Sunday morning, it's nothing but negative comments and people making jokes and people making fun about you, which I don't think is cool. I've never been on the other side, so I don't know how it feels. I'm pretty sure she's a very, very strong person, but we still have to take into consideration that she has feelings."
Mayweather is really taking the high road here. Do you think Fif will have something to say about it?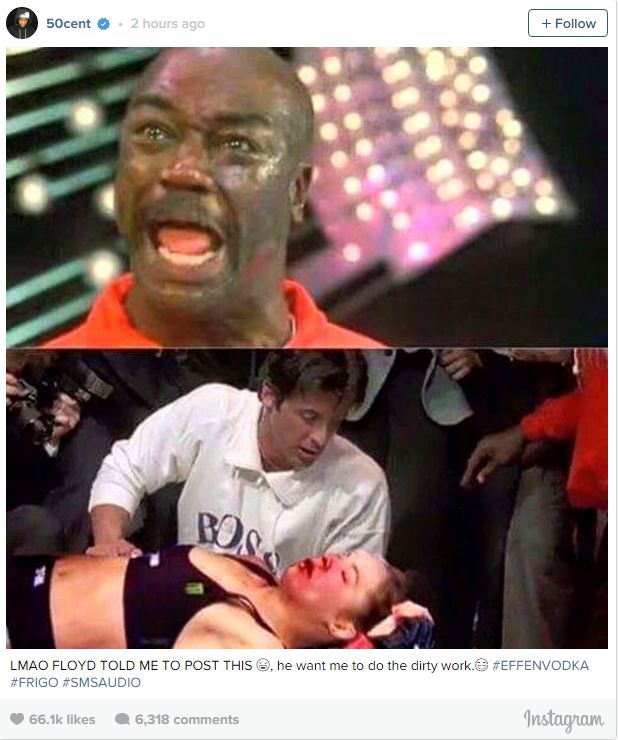 Discuss