A new poster from legendary memorabilia makers the Costacos Brothers has Russell Wilson armed and dangerous.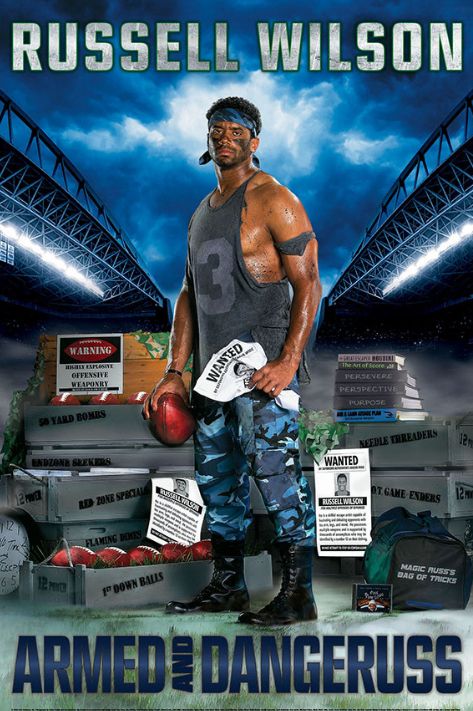 The poster cost 20 bucks, and the proceeds go to Wilson's Why Not You Foundation" which aims to inspire and prepare tomorrow's leaders.
That's all fine and good. But it didn't stop the Internet and the Future Hive from going on in the Seattle QB's ridicolous pose.
has sex once: pic.twitter.com/egmvqDuB8W

— OHB (@ohholybutt) July 27, 2016
@BarstoolBigCat plays Call Of Duty once... pic.twitter.com/sY7TxK8SdZ — Kev Rich (@kevantrich) July 27, 2016
Russell Wilson's new poster looks like a No Limit Records album cover. pic.twitter.com/sKD6f3R59b

— Trent (@BarstoolTrent) July 27, 2016
Russell Wilson looking like a hidden character from Def Jam Vendetta pic.twitter.com/wIoUgltQLZ — Milmore (@StoolMilmore) July 27, 2016
Russell Wilson looks like a younger version of Robert Downey JR from Tropic Thunder like wtf pic.twitter.com/QMk7rkKV8n

— 100% Real My Guy (@June__NYC) July 27, 2016
I bet Russell Wilson made sure he would never have to look Marshawn Lynch in the eyes while in a huddle again before releasing that poster — Clemzingis (@TheClemReport) July 27, 2016
So Russell Wilson let Future desiign his new poster? pic.twitter.com/aj6MNNfthJ

— ESPEZY Ation (@ESPEZY) July 27, 2016
Discuss