Elon Musk and Kanye's relationship hit a snag last week when Elon kicked him off Twitter for posting swastikas and added that he wanted to "punch" Ye for his anti-Semitism.
West's response to all of this was typically odd.
"Am I the only one who thinks Elon could be half Chinese? Have you ever seen his pics as a child?" he wrote. "Take a Chinese genius and mate them with a South African super model, and we have an Elon," he typed on IG.

"I say an Elon because they probably made 10 to 30 Elon's and he's the first genetic hybrid that stuck …. well, let's not forget about Obama. I'm sorry for using curse words in church but I don't have another word for Obama yet. YE24 let's unify and find out LUAFO."
Musk took Ye's weird rantings well. In fact, he took it as a compliment.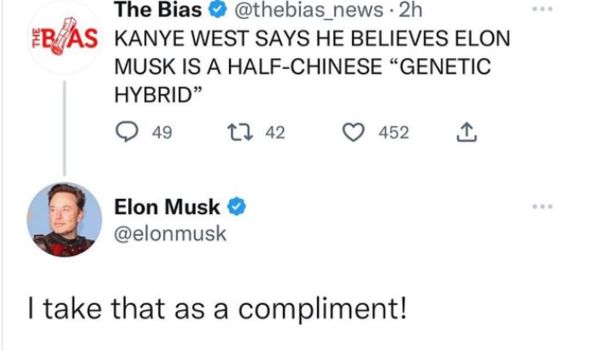 Discuss