A couple of years ago, Earl Sweatshirt caused a stir when he ripped the Post Malone smash hit "White Iverson."
"Who mans is this lol, who let this slide," Earl said about the song on Twitter.

"I don't sweat shit," Post fired back, making fun of Earl's unusual rap moniker.
Fast forward to this week. Postie is in hot water with some for making comments in which he said modern Hip Hop lacks depth.
"If you're looking for lyrics, if you're looking to cry, if you're looking to think about life, don't listen to hip-hop," Post said. "There's great hip-hop songs where they talk about life and they spit that real shit, but right now, there's not a lot of people talking about real shit."

"Whenever I want to cry, whenever I want to sit down and have a nice cry, I'll listen to some Bob Dylan," he continued. "Or whenever I'm trying to have a good time and stay in a positive mood, I listen to hip-hop. Because it's fun. I think hip-hop is important because it brings people together in a beautiful, happy way."
Earl saw this as an opportunity to twist the knife.
"This yal man niggas disrespected me over him," Earl tweeted, linking to an article about Post's comments.
We suspect Post will respond to Earl in the same way he responded to his other critics.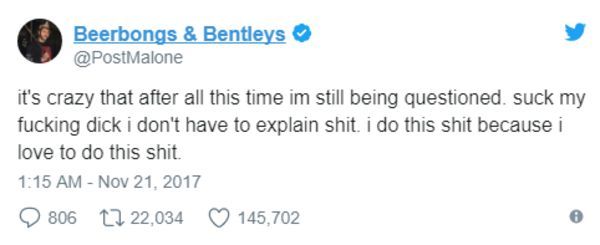 Discuss