Drake had a lot of number ones in 2016.
But this could be his most impressive.
Drizzy's Summer Sixteen tour took in $84.3 million in '16, making it the highest grossing tour in Hip Hop history.
The previous title holder was Jay Z and Kanye West's Watch The Throne tour, which grossed $75.6 million in 2012.
Drake' Summer Sixteen outperformed the Throne even though he had fewer dates (63 to 56.)
Now Drizzy does have some work to do. The Summer 16 tour only ranked 11th among all 2016 tours.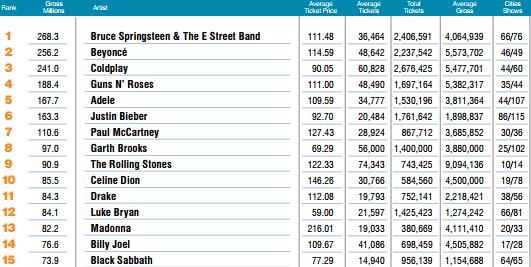 The other rap acts on the 2016 list were Kanye West at 29 ($52.8 million) Macklemore and Ryan Lewis at 75 ($23.9 million), Salt N Pepa/Vanilla Ice at 79 ($21 million) and The Bad Boy Reunion Tour at 95 ($17.5 million.)
Did you see any good shows in 2016?
Discuss