As you well know, earlier this week Tyga called Drake "fake" and also said he didn't much care for his Young Money label mate.
Now that the ball is Drake's court, how will he respond?
So far Drizzy is taking the subtle, passive aggressive approach.
Not long after Tyga's inflammatory Vibe interview hit the web, Drake began liking Tyga's estranged baby momma's Black Chyna's photos on Instagram.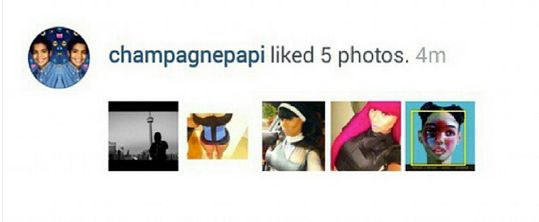 If you go back four years ago, before Tyga and Blac Chyna were a couple. Drake had mentioned the stripper in the song 'Miss Me.' There are also reports Drake has been sleeping with Chyna on-and-off ever since, something Tyga finds highly disrespectful.
Furthermore, Drake has been seen creeping around Tyga's high school-aged girl friend Kylie Jenner, giving T-Paww something else to be paranoid about . Then Tyga has his buddy Chris Brown -- who's had his own female drama with Drake -- whispering in his ear.
Speaking of high school ... yeah, this is all cafeteria level gossip. Now it's up the to the fellows to start working it all out in verse.
Discuss