Drake and YouTube music critic Anthony Fantano had a rather intense back-and-forth after Fantano posted some DMs that he said were from Drake.
But the messages were fake, so the rapper responded and Fantano shot back.
"Anthony! It's Drizzy," the phony DM read. "I know we don't really see eye-to-eye about music and that you are not the biggest fan of most of my albums (thanks for the kind words on Take Care and If You're Reading This tho). But it is what it is, you know. Can always hope you'll like the next one! But I'm not messaging you about your videos. I'm actually messaging you cause I found a really great vegan cookie recipe I'd love you to try!"

"I'd really appreciate it if you could give this a spin and let me know if it's worth trying myself! Appreciate you! Drizzy out!" the message concluded.
Drake responded hours later on Instagram Stories.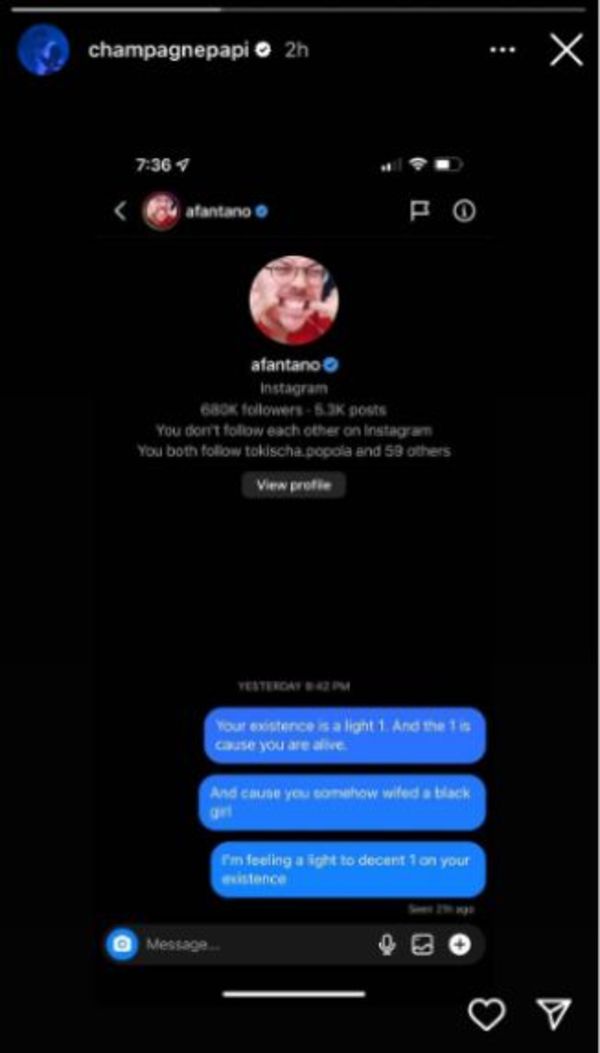 "Your existence is a light 1," wrote Drizzy, referring to Fantano's rating system. "And the 1 is cause your alive. And cause you somehow wifed a black girl. I'm feeling a light to decent 1 on your existence."
Fantano — who said Drake's Certified Lover Boy wasn't good when it dropped — later shot back on Instagram Live.
"One of the artists who I have reviewed the most over the years is Drake himself a.k.a. Champagne Papi," he stated. "And yeah, essentially what happened is that for reasons unknown to me, Drake was in his feelings, as he does tend to be, because that is his nature, that is his vibe, that is his style, that's his whole thing. Being in his feelings, that's his brand, you could say."

"He was in his feelings Wednesday night, very late into the evening, I was in this garage lifting some weights when I caught a DM request from Champagne Papi himself. I saw the DM request and I looked at it and yeah, it was a bit of a diss. It was a salty little DM, it was quite sad and unfortunate."
Fantano also called Drake "obsessed" in his response and said he uses ghostwriters.
Was Drake right to respond to him?
Discuss