Drake's Scorpion has been streamed more times than any other album in its first week.
It only took Drake's fifth album three days to break the previous mark, which was 431.3 million streams for Post Malone's Beerbongs and Bentleys.
Drake's 'Scorpion' has already broken the single week US streaming record (435m audio streams in 3 days).

— chart data (@chartdata) July 2, 2018
Scorpion should end the week with close to 700 million streams.
On the other hand, Hits Daily Double has downgraded their first-week projections for Scorpion from 870K-920K sales plus streaming to 725-775k SPS.
And some of that streaming success may have to do with real estate: Spotify granted Drizzy a "takeover" of their service, meaning that his image was used even on playlists that didn't feature his music.
There's a @Drake for practically every mood. #ScorpionSZN is here. Listen now on Spotify 🦂https://t.co/Gfa32R9WN1 pic.twitter.com/p1qbGsac88

— Spotify (@Spotify) June 29, 2018
This angered some of Drake's non-fans.
This Drake Spotify takeover is comparable to that time Apple put U2's new album on everyone's iPhone when nobody asked for it......

— Mother Unicorn 🦄 (@annayvettemusic) July 1, 2018
Reddit user Schwagschwag revealed he was refunded one month's payment after he complained to Spotify's customer service about getting hit with a parade of Drake "ads" even though he pays for ad-free premium. Other Drake-haters on Reddit tried the same with varying degrees of success.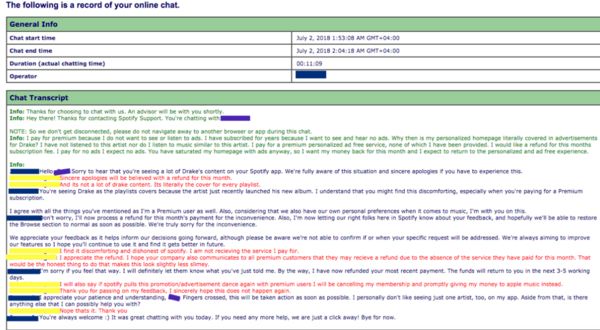 Discuss