Yesterday, TMZ posted CCTV footage of Kourtney Kardashian's ex Younes Bendjima badly beating an employee of the LA hotspot Delilah as Drake and Odell Beckham looked on.
The incident took place in March. Because of what the victim, Bennett Sipes, saw on the video, he plans to sue Benjima, Drake, and Beckham for the assault.
Sipes' lawyer, Colin Jones at the Wilshire Law Firm, tells TMZ ... he learned from speaking to his client and witnesses that his client's girlfriend -- famed Instagram model Sommer Ray [she has 19 million followers] -- was hanging in the VIP section of the club during the evening, chatting with Odell. Toward the end of the night, Sipes -- who was an employee of Delilah, but not working that night -- went to the VIP section to get his GF, and Odell was none too pleased.

What happened next is unclear. It seems words were exchanged, but it did not get physical. Cut to around 2:30 AM, when Drake, Odell and their crews left through the back door. That's when Sipes appeared, said something, and Younes unleashed a barrage of punches, and was joined by another man.

Attorney Jones believes the other man who began punching was a member of either Drake's or Odell's security team, which would make them responsible for what the guy did.
According to Jones, Sipes didn't realize it was Bendjima who threw the punches until viewing the video TMZ posted. Then he put it all together and initiated the lawsuit. (This is what the lawyer said, we're not saying it makes a whole lot of sense.)
Drake and Beckham's teams have claimed that Sipes was the aggressor and Drizzy and ODJ had nothing to do with the assault.
Jones says his client is still going through physical therapy from injuries he suffered in the attack.
Here's a photo of Sipes all beat up and some of Sommer Ray, the lady who got the fist flying.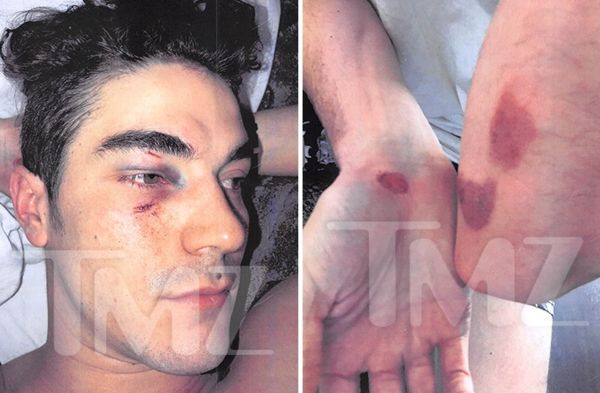 Discuss