If you've been on Twitter lately, you may have seen hashtags like #RIPDrake and #Pray4Drake.
They were in response to a rumor that Drake had perished in a car accident early Sunday morning.
Media behemoth BuzzFeed even published an obit for the Canadian superstar:
Los Angeles, California—On early November 22, 2015, the rapper known as Drake to his fans and Aubrey Drake Graham to his loved ones passed away in a fatal car accident. A reckless driver whose name has not yet been released to the public and is alleged to have been driving under the influence crossed the median early Sunday morning and crashed head on into the rapper's Lamborghini Gallardo, crushing the car and everyone inside. An unidentified female is also alleged to have been in the passenger seat. Graham was taken to the emergency room but was unable to be resuscitated. The female victim was declared dead at the scene.
For all you haters who think it's fake... #RIPDrake #Pray4Drake https://t.co/fxSuthHksa

— Sarah (@loviee33t) November 23, 2015
Call us haters, but it's all a big hoax. Drake is very much alive.
We know this because he got on Instagram yesterday and talked about wanting to work with Adele. This is not something dead people do.
Drake will be running through the 6 for years to come, for better or for worse.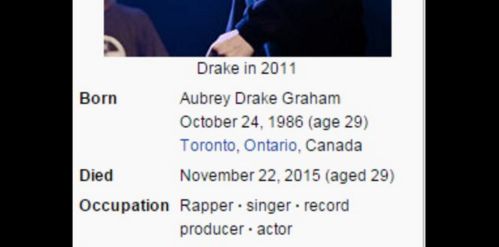 Discuss