Big win for the Raptors over the Wizards last night. Their team ambassador and number one fan Drake was on hand for Toronto's 95-93 victory and he did a fine job of making himself the center of attention.
On the Wiz's last possession, the cameras caught Drake right behind Paul Pierce, who was the inbound passer. While we'd like to say Pierce "shoved" Drake, because that would be quite a story, he really just gave Drizzy a playful tap.
John Wall ended up missing a three at the buzzer on the play, but Drake wasn't always so sure of his team's victory. Here he is in the first quarter flashing a meme-worthy look of sadness.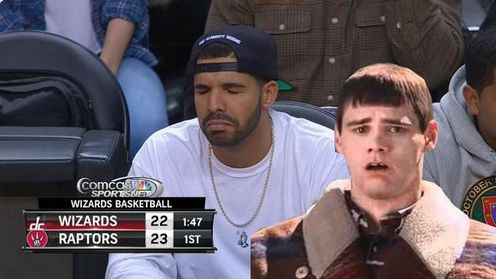 Discuss